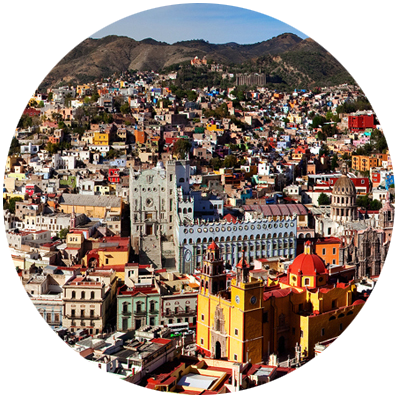 Guanajuato has been listed as a World Heritage Site by UNESCO since 1988. This city is also considered one of the most beautiful colonial cities in Latin America due to the color of the houses, for its multiple and historic alleys and because you can find architectural jewels of neoclassical and baroque style at every corner.

The city hosts endless museums, plazas and monuments that make Guanajuato a city without comparison. The most representative symbol is perhaps "EL Teatro Juárez", a majestic construction that represents the cultural center of the city and is the meeting point for all the people in the city. Another important reference is La Universidad de Guanajuato. Its imposing facade and staircases provide a dramatic image of the university. Guanajuato also offers another emblematic figure: El "pipila", a statue of one of the heroes of Mexican Independence. From the top of the mountain, it offers a splendid image of the city, worthy of being enjoyed.

Through their streets, monuments and colors, people fall easily in love with Guanajuato. However, it is also easy to fall in love with the city for the warmth and kindness of the people, for the tranquility of its squares, for the energy and for the magic that transmits the existing cultural life 365 days a year, for the parties, celebrations and for the festivals recognized worldwide for the quality and prestige.

Guanajuato is a magical city that vibrates the senses of each of its visitors and invites you to return again and again. If you are going to come to Escuela Mexicana to study Spanish, we are sure that your stay will be one of the most important, valuable and fun experiences of your life because of what you will learn with us and for what you will live every day in our beautiful city. Do not wait any longer. Fill yourself with the Spanish language as well as traditions, culture and colors of Guanajuato.


Visit us!

You will not regret it.
EXTERNAL LINKS: